Can I Become A Model If I Have Acne?
Created the: 17-09-2020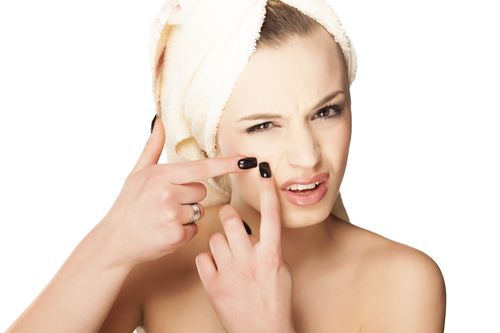 We've all seen the models in commercials that have such beautiful skin, no birthmarks (unless it's a perfect size and in the perfect spot), no bags under their eyes, and not a single pimple. But what if you suffer from acne or get pimples regularly? Does that mean you have to say goodbye to a modelling career? We discuss the realities and options here.
When it comes to advertisements, clients typically want to create the illusion that the models accompanying their products have flawless porcelain-like skin. But that doesn't always fit with reality. Models can easily get pimples, just like the rest of us.
If a model gets a pimple before a photo shoot, it can be successfully dealt with by a professional makeup artist. After the photoshoot, images are processed using editing software that will retouch any visible blemishes away. So even though it appears most models have beautiful, flawless skin, appearances can be deceiving. Models are ordinary people with the same skin as the rest of us. And also just like the rest of us, they get pimples at the worst, and most annoying times (Not that there's ever a great time to get a pimple).
Pimples on the catwalk
During Men's Fashion Week in Milan in the spring of 2016, the exact opposite of typical flawless skin was on display. The Malaysian designer, Moto Guo, intentionally sent models with acne outbreaks down the runway during the presentation of his spring collection. And it wasn't just a case of a pimple here or there; the models almost appeared to have been in the midst of a pimple attack. It's not clear whether the pimples were genuine or made to look that way with makeup, but the point was made either way. The designer wanted to reinforce the message that it is perfectly normal to get pimples — even if you want to be a model.
If you are one of the lucky ones who rarely get a pimple, it's still very easy to have a career as a fashion model. One or two small pimples can be simply covered with makeup and/or removed during photo editing. However, if you suffer from severe acne regularly, it could become an obstacle in the fashion industry. It's unlikely that most fashion shows in the future will be of the variety Moto Guo puts on.
You can improve your skin yourself
Even if "perfect" skin does not exist, beautiful skin is still important as a model. It's just expected that you have nice skin, and take good care of it. This means washing your skin every morning and evening. Never use regular soap when face-washing, instead use a facial cleanser (if necessary, find one designed to reduce pimples). You should always apply moisturising cream after washing your face. But the best tip for maintaining beautiful skin - and avoiding pimples - is to drink plenty of water and eat healthily.
Getting a pimple or two, once in a while, shouldn't stand in your way of becoming a model. If you experience regular pimple outbreaks, it can be more challenging to break into modelling. Make an effort to control and reduce your acne (easier said than done, we know) and go after that modelling career. With the right determination, there's no reason you can't succeed.