How to Become a Plus-Size Model
Created the: 18-05-2020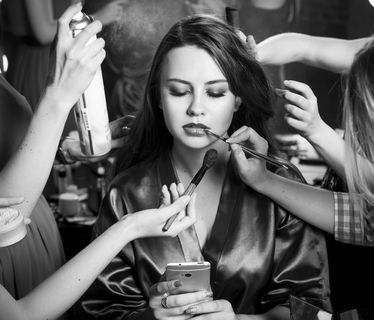 Here's everything you need to know about becoming a model with curves.
Plus-size, or curvy models as others prefer to call them, are models whose sizes are a little larger than standard size models. They are used to advertise all kinds of clothing and accessories for fuller women.
Although the plus-size category has existed for many years, it wasn't until recently that this area of the fashion industry began to grow dramatically. The year 2015 is significant as the year in which the first plus-size model, Ashley Graham, appeared in the prestigious "Sports Illustrated" magazine.
What measurements should I have as a plus-size model?
To become a plus-size model, you must at least wear UK size 12 or larger. Your chest, waist, and hips should have a difference of approximately 4 inch. Proportions and symmetry are important, so don't expect to be considered for plus-size modelling if you are significantly larger around the hips compared to your bosom or vice versa.
Just like in standard modelling, you must be at least 5'8" - but no rule without exceptions. The American model Tess Holliday is only 5'5".
It seems like a very average height for a model who is supposed to be larger, but the fashion industry deems any size over UK size 8/10 to be plus-size. For this reason, many want to change the plus-size moniker to something more positive.
Similar to regular sized models, you should have nice legs and a minimum of tattoos or piercings (however, Tess Holliday has once again proven that there are always exceptions to the rules).
Your hair and nails should be neat and well-groomed
Whether you are a size 8 or a size 22 model, you need to stay fit and drink plenty of water. No one should eat fast-food every day, and that also goes for plus-size models. You need to think about what you eat, look healthy, have fresh looking skin and exercise. Your body is your tool, so be sure to keep it sharp. You should be an inspiration to other women.
Remember, don't resort to starving yourself to meet the plus-size requirements. There are three very important reasons why that is a bad idea:
1. You can't control where on your body you lose the weight.
2. Plus-size agencies are looking for energetic, healthy looking models. Not those who look unwell or tired from too little food.
3. It could damage your modelling career permanently.
Personality
The industry is full of rejections, so confidence is a must! You should be comfortable being evaluated by clients, and able to take criticism about your appearance. Take their comments with a smile. Grow from the experience, and learn from the feedback.
The modelling industry is extremely competitive, but there is less competition among plus-size models. However, the demand for plus-size models is not nearly as high as their thinner modelling counterparts, so it takes hard work, patience and a good deal of willpower to breakthrough.
Be Photogenic
It should be obvious. You must, of course, be photogenic if you want to be a model. Unfortunately, it is not enough to have one great pose or a specific angle where you really shine. Your pictures should be good from several angles and positions, even if there's a part of your body you'd like to feature less.
Dishonest Casters
Yes, some deceitful agents and casters promise huge paydays and cool jobs if you pay them a lot of money in the plus-size business too. Watch out for them. There are plenty of unreputable companies that will prey on girls hoping to become models. Even if you receive a lot of rejections from the well-known modelling agencies, do not be tempted by a dishonest company looking to take advantage of your modelling dreams. There is nothing to be gained. Use good judgement, and research companies on the web. If they seem suspicious, they probably are. Don't fall into a trap.
Read more here: Unprofessional And Deceitful Casting Agents
Less Demand
Plus-size models have been around for years, but it hasn't been until recently that they've gotten a lot of attention. Unfortunately, they are still not in demand as much everywhere.
Some modelling agencies have departments dedicated to plus-size models. In the US, for example, they have many more plus-size stores, which generates significantly higher demand for plus-size models.
However, even in places like America where demand is higher, don't expect to find jobs easily. Fashion magazines, advertising campaigns, etc., still primarily use thin models. But you should still be proud that you are helping to establish a new ideal that shows consumers and the fashion industry a different way a model can look.
Also, more fashion houses are starting to make clothing for larger women as consumers demand clothes that fit them more comfortably, and look good on fuller shapes than what is traditionally offered on the cat-walk. Moreover, people are getting a little heavier globally, creating a changing view of body types and sizes. So while there are fewer opportunities today for plus-size models, the market is growing and will continue to grow in years to come.
Wages
The reality is that plus-size models do not make nearly as much as their thinner colleagues.
Contacting Agencies
Most modelling agencies allow picture submissions. It is not necessary to get professionally photographed pictures done. In fact, many agencies advise against it, as they would prefer to see how you look naturally.
At a minimum, you must submit a portrait picture and a full figure shot where your legs are visible. Wear clothing that shows off your shape, but nothing too risqué!
It's a good idea to have a friend take the pictures of you that you're going to submit. Do not take selfies as they usually come-off being of very poor quality. Keep the images natural and wear little or no makeup. No false eyelashes or coloured lipstick. Lose the hat, sunglasses and your entourage. Just be yourself so the agency can see who you really are without distractive elements.
Open Casting
An "open casting" is a casting session where anyone can show up without an appointment or any kind of prior arrangement. Check out casting websites to see when open casting sessions are being held.
Wear nice pants and a top or maybe a dress. Be sure to keep it simple so that agents can focus on you and not the neon-coloured skirt you decided to wear. Make sure your clothes are not too loose so that your shape can come through.
Keep your makeup and hair natural. Your nails should be neat and well maintained. If you need to paint them, use a light colour, but it's better to avoid nail-polish altogether.
When you are selecting the look you want to present during the casting, think about making yourself a blank canvas that agencies can use to their advantage. If they can see it, you're on your way!