What does it take to become a model in South Africa?
Created the: 05-02-2019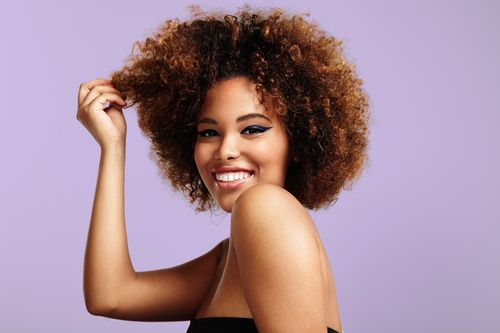 How do you actually become a model? What does it take? Is it as glamorous, as it sounds? Read all about it, right here.
What does it take to become a model in South Africa?
First off, let's get the hard facts straight. What does it take mentally and physically to become a model?
How tall do I have to be?
Generally speaking, girls must be between 172-184 cm tall, and boys must be approx. 183-190 cm tall. But this is not a strict model-industry rule, and as such it isn't set in stone. A lot of female models are "only" 170 cm tall, and instead of the extra height, they have a lot of personality, a unique face or something else that makes them the perfect model.
If you are 13-14 years old, your body isn't finished developing, so it is ok to be a bit shorter, but not too much.
Why must models be so tall?
The reason the height is so important, is simply that the fashion collections often is made in standard measurements. Furthermore, it looks better if all models have somewhat the same height when doing fashion shows, photo shoots etc.
Pointless and unserious agents and agencies
Be advised, there are unserious agents out there, even in South Africa. Sometimes they can be trying to lure you in with a profitable model career, even though you don't have the height for it.
Use your common sense, use Google to do your own research on the agent or agency. If it seems too good to be true, it probably is.
If you want to be a model, try to contact the well-known established model agencies. Not agent with the small classified ad in the newspaper. And, if they ask you to pay to be part of their agency, it is a classic red flag. Watch out. If you have what it takes to become a model, they bigger model agencies wants you. Do not let yourself be tempted, by false promises.
Age
Most girls start when they are around 14-15 years old. For men, it is a little different, they start around the age of 18-25. This is because most men have to look a bit older, since most male consumers are older than female consumers. But then again, male models can have a career that goes a good way in to the thirties, where the female models are running out of modelling opportunities.
If you are currently younger, you can become a children's model.
Being photogenic
As a model, you of course have to be photogenic, from all angles. A modeling agency can easily spot whether you have it, or not. Unfortunately, it isn't enough to have one great "pose", or a certain angle where you look astonishing. Photographers and directors want to see adverse expressions, feelings and looks in the pictures. You have to look fantastic from all angles.
How should I look?
Just because you are a good-looking South African girl or guy, it doesn't mean that you can become a model. Your look as a model depends a lot on the specific modelling job, and what the customer wants. Besides the height, which is more or less a definitive must, models can look very different, and still be right. Redheads, blondes, freckles, a special smile, light-skinned or dark-skinned – all unique features can be exactly what gets you the job, and it can be what disqualifies you for a certain job. It depends on what the customer wants.
For males, the model industry isn't looking for big and muscular, but you need to be fit and in good shape.
How much should I weigh, as a model?
Most female models weigh around 50-60 kg. But it always depends on how your body looks as a whole. Generally speaking, it is said that the perfect measurements are 90-60-90 (breast, waist, hip), but that is just a guiding principle.
As a model your body is your tool, so always make sure to treat it right. Take care of your body, by eating healthy, work out and drink plenty of water. Do NOT starve yourself! The customers want healthy and fresh models, not ill-looking drained models!
Note: You can become a model, even though you don't fit all these measurements down to the detail.
Lately, a larger focus has come on the model's weight and health. More and more countries, such as Spain and France have made a moral code for the modelling industry stating that as a model you must have a BMI of at least 18, in order to earn money as a model.
Personality
For men and women, you need to have confidence in yourself, and be responsible as a person. You need to be able to keep agreements, be on time, and be able to handle the pressure of being weighed and measured – all the time.
In many cases, you also need to be ready and willing to travel around the world, or maybe even relocate to a new country for a longer period.
This is how you get started as a model in South Africa
First and foremost, you need to ask yourself; "what type of model do I want to be?" There are around 22 different types of modelling work. For each type, there are specific requirements.
When you have figured out what type of model you can be, you need to find an agency that represents this specific type.
The most common types are; fashion models, commercial models, fitness models. promotion models, glamour models and freelance models.
Get signed by an agency
In order to have success as a model in South Africa, it is easiest if you are signed to an agency. The agency will enable you to meet the customers. Some models work as a freelancer, but only very few can live off of being a freelance model. An agency can help you get booked for castings and jobs, and this will assist you in building your career as a model.
All modelling agencies are looking for the girls and boys with "that" look. There are different ways of getting in contact with the agencies:
Open casting calls:
A modelling agency can have an open casting call, meaning that it is open for everyone who wants to become a model. When it is your turn, you will be called in and based on your audition, they will decide whether you have potential for becoming a model or not. Sometimes it takes a single minute, other times they can ask you to do a catwalk, take a picture of yourself, or someone else. Prepare yourself mentally for everything. The agencies do know that you aren't a professional model yet, but they need to be able to see the potential in you.


Mail:
You can send your pictures to the agencies, for them to have a look and evaluate whether you have modelling potential, or not. Get a friend or your parents to take some pictures of you. The pictures must be natural, showing you as a whole. Only wear very little make-up (or nothing at all), so that the agencies can how your skin looks. As a starting point they need a portrait photo, and a picture showing you all of you, your legs, body, and face. But, remember, no nudity and no provocative pictures. Being natural is the keyword – the customers will decide when they need you to be something else.


Competitions:
You will very often find that there are different kinds of modelling competitions, held by agencies, TV networks and other kinds of companies.


Onlinecasting:
Onlinecasting has modelling jobs on an ongoing basis. It can be large scale modelling jobs for big companies, or smaller jobs a shop or something else. Keep an eye out for news postings on the website. Look here, for all current modelling jobs on Onlinecasting.


Don't give up if you not chosen immediately.
Agencies are looking for diversity, so if they have someone like you already, they don't need another one.
The glamorous life of a model
Even if you are signed by an agency, it doesn't mean that your life will turn into a life of luxury and money coming in from everywhere. Being a model is a job, just like being a plumber, a secretary or bus-driver is a job. Well, not exactly, it isn't your typical 9-5 job. It requires a lot of hard work – physically and mentally. You will be on the road a lot, meeting a lot of different people, different personalities in different moods, from different cultures.
Remember to have confidence in yourself
The South African model industry is highly competitive. You will not be able to get all the jobs you audition for. The customers will be measuring and evaluating your looks constantly, and they will not hold back in criticizing how you look, right in front of you. This makes it very important that you have a lot of confidence in yourself. The trick is to take it all as constructive criticism and grow and mature with all the different experiences you get. If you take the feedback in a negative manner, your modelling career will be very short.
You need to be able to take rejections with a straight face, especially in the beginning. It might be tough, but remember not to take it personally, even though it it can be a challenge.
"Life of luxury"
In the beginning of your career, you will only earn very little money. But, as you get more experience, you will also get better paying jobs. The majority of South African models has another "normal" job or study besides their modelling career. It is always good to have back up plan, if modelling doesn't work out, or for when the career ends.
What do you actually do as a model?
The South African modelling jobs can vary a lot. It can be anything from photoshoots, to print-ads, tv-commercials, product launches, fashion shows and much more.
During your modelling career, you will be building you own portfolio with different types of pictures of you. You need to always carry your portfolio with you, so that potential customers can see it when you are at a casting. This can be the difference between getting the job, and not getting it.
At some point in time the agencies will start sending you to other countries and new locations. You have to be prepared, as the competition will be even fiercer in these new places.
And remember; where there is money and fame, there are also people with bad ideas. Listen to yourself, and especially to your agency and the advice they give. And lastly, have confidence in yourself – you can do it!
Are you ready to become a model?
If you still dream of becoming a model, then go do it! Most models say it is worth all the hard work.
Onlinecasting is rooting for you!
Here are some of the larger agencies in South Africa:
Sync Model Management
GAPA Model Agency
3D model agency Cape Town, Johannesburg
Base Model Agency Cape Town
Boss models Cape Town
Contact Model Management Cape Town
D&A Model Management Cape Town
Fusion model management Cape Town
G3 Models Johannesburg
Glamorous Models Durban
Glamasphere Model Management Johannesburg
Heads Models Johannesburg
Ice Model Management Cape Town, Johannesburg, Durban
Icons models Cape Town
Infinity Models Cape Town
Mens Division Model Agency Cape Town
TopCo Models Cape Town
Twenty Model Management Cape Town